Utilising the skills of Deaf interpreters with new technology
Size and position of the sign language interpreter on TV: A reception study
Sign Language interpreting on TV – challenges and reflections on solutions
Pointing, showing and telling
Preparation for interpreting in TV settings - methods and strategies employed by sign language
interpreters across Europe
Aleksandra Kalata-Zawłocka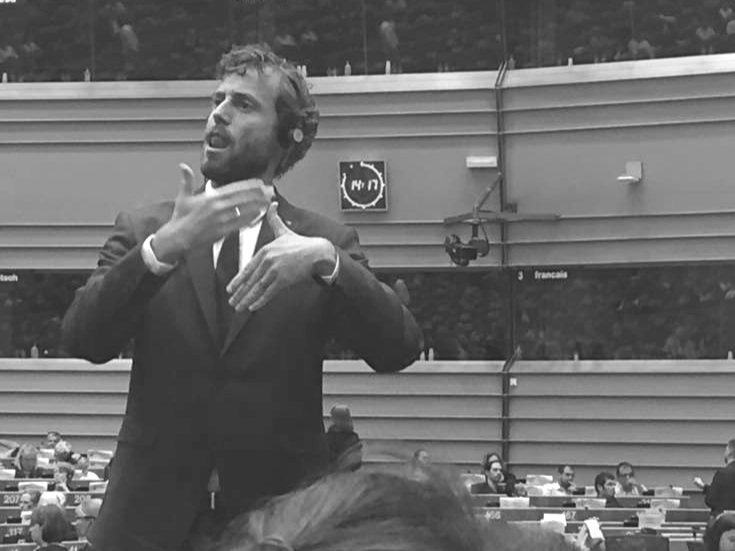 Fingerspelling - strategies and usage
Dr. Aleksandra KALATA-ZAWLOCKA is Assistant Professor at the Institute of Applied Linguistics, University of Warsaw, a founder and the President of the Association of Polish Sign Language Interpreters (STPJM). She is a researcher, author of several academic publications in the field of sign language interpreting, trainer of sign language interpreters. She has been involved in establishing the first postgraduate program for sign language interpreters in Poland. For the last year she has been working on introducing Polish Sign Language as a C language at the Institute of Applied Linguistics. She has just researched preparation strategies and methods employed by sign language interpreters working in television settings across Europe as well as Deaf viewers' evaluation of sign language interpreting services provided on Polish television.
Preparation for interpreting in TV settings - methods and strategies employed by sign language interpreters across Europe
Preparation is a vital tenet of a majority of interpreters' codes of ethics and professional standards, a fundamental principle advocated by educators and endorsed by interpreters' professional organizations. As is known from existing research on interpretation, the necessity to prepare before an assignment stems from the need to ensure the highest possible quality of interpreting services. The high quality of interpreting services is, in turn, a guarantee of Deaf viewers' access to television content. Having this in mind, the author of the present paper examined preparation methods and strategies employed by sign language interpreters working in television settings in several different countries in Europe. The research was conducted by means of an online survey that covered areas regarding the amount of time spent on preparation prior to particular assignments, specific activities undertaken to secure the efficacy of the interpreted output, and interpreters' motivation to prepare, among others. The research findings will serve to investigate how sign language interpreters across Europe understand the very concept of preparation, compare methods and strategies they employ to prepare, as well as to develop guidelines for teaching preparation in the area of television interpreting.
Lesley MCGILP is currently the General Manager of the Signing Team, Access Services in Red Bee Media, responsible for all aspects of BSL interpreted/translated media for our clients (BBC, C4, Five and S4C). She has achieved and established new initiatives over the 16 years at Red Bee Media in various roles. More recently led the team in establishing the first Deaf interpreted live broadcasts for both the BBC News and prominent events such as the 2016 summer and 2018 Winter Paralympics. This has been achieved through collaboration with the Red Bee Media Project Team and the use of INTERSUB (Live subtitles) enabling Deaf translators/interpreters to work in a live setting. The Sign Language Team also delivers in-vision interpreting for high profile transmissions such as The Queens Speech which broadcasts annually on Christmas Day.
A general overview of the sign language interpreting on TV provided by RedBee Media
Red Bee Media, Access Services, SLT, we deliver over 2,000 hours of in-vision signing for pre-recording video content and live news each year. A demo of our work, who we are and what we deliver in signing will be presented.
Utilising the skills of Deaf interpreters with new technology
We, at Red Bee Media (RBM), fully embrace and recognize the skills that deaf employees can bring to a business. Reasonable adjustment is integrated into the foundation of Red Bee Media, which allows for a seamless work experience regardless if the employee is hearing or deaf. Red Bee Media have provided Sign language Translation for both pre-recorded and live programs for a number of years, achieving this through utilizing the skills of our internal deaf staff and freelancers. Our Deaf Translators are trained appropriately and are formally recognised. Utilising our Deaf Translators more effectively has always been a goal we've worked towards. The presentation will present in detail how this works.
Paal RICHARD PETERSON (born in 1973) is the manager of the Sign Language Department at the Norwegian Broadcasting Company (NRK). He is deaf and a political scientist with experience from government administration and organisations. In NRK he is administrating both the interpreter channel and the sign language news program. He is also a news presenter himself, and often used as a toastmaster and chairperson. "I do not have all the answers, but hopefully I ask questions that may lead us to reflect upon our work, and bring us closer to our common goal: to continuous improve our interpreting on TV", he says.
Sign Language Interpreting on TV - challenges and reflections on solutions
In Norway we have almost 20 years with experience from interpreting on TV. In 2000, NRK established a separate channel, dedicated to sign language interpreting. In the beginning, the deaf viewers had to have two TV's (or a PIP-TV). If you had to buy a new one, the government funded some of the cost. After some years, we got one picture with both the original program and the interpreter within. We now interpret approximately 23 hours a week, both children programs, news, discussion programs and documentaries. What have we learnt throughout the years? In the lecture we will introduce some of our challenges and reflect upon our solutions and other possible solutions. Some of our challenges have been: How do different programs demand different approaches to the translation process? How does the interpreting situation, in front of a camera, influence on the interpreting? How much preparation is needed, and how to be as well prepared as possible? What must be taken there and then – unprepared? How to steadily improve our Sign Language skills? How to improve our awareness of our role as sign language models? What do we do when we do not have a sign that match the interpreted object (i.e. a country)? How to interpret music? The lecture is planned to be held with some of the interpreters that work on the channel on regularly basis.
Rob SKINNER is a final year PhD student at Heriot-Watt University looking at the use of video-mediated interpreting in frontline policing contexts. The study brings together issues related to policing diverse communities, procedural justice, policing vulnerabilities, video-mediate interpreting, dialogue interpreting and dialogism. For more information about Robert's area of research visit www.proximityinterpreting.com. Robert is a qualified British Sign Language/English interpreter and began his career in 1998. Robert's area of specialism include broadcast media (BBC News), video-mediated interpreting (with SignVideo), psychology, language processing, mental health. Robert's began working as a researcher at the Deafness, Cognition and Language Research Centre (DCAL), working closely with Gabriella Vigliocco's language processing lab investigating the effects of iconicity. Between 2014 and 2016 Robert continued his work as a Research Associate at Heriot-Watt University working on the Insign project, Justisigns and Translating the Deaf Self. Find Robert on Research Gate or Academia.
Fingerspelling - strategies and usage
The presentation will look at the use of finger-spelling among BSL/English interpreters working on the BBC news. Fingerspelling is known to exist in many parts of the world and is used alongside signs. Most countries use the one handed system while BSL is a two handed system (Sutton-Spence & Woll, 1999). Schembri & Johnston (2007, p. 320) explain how fingerspelling functions as a visual-gestural representation of writing (i.e., a secondary form) that is in turn based on spoken language (i.e., a primary form) (Sutton-Spence 1994). The use of fingerspelling for interpreters covering a news broadcast could be to refer to an individual, a title, an organization, a location, an object or term. The challenge is how to keep up with the speaker pace and ambiguity with spelling. Looking at the use of finger-spelling can reveal the complexities with adopting a consistent approach to its use, maintaining a style of interpreting and the complexities of working alone as part of live broadcast.
Dr. Christopher STONE earned his PhD from the University of Bristol (2006) where he researched Deaf translators working within regional television news rendering English into British Sign Language, which resulted in the publication of Towards a Deaf Translation Norm (Gallaudet University Press 2009). He is undertaking a follow-up study comparing deaf and hearing interpreters rendering national television news in British Sign Language. He still maintains an interpreting practice mainly interpreting in academic and media settings with experience interpreting the national media (BBC) and conferences (ASLI, BAAL, BBC, LAGB, Labour party conference, UNISON, etc.), European meetings and conferences (EFSLI, EU Commission, EU Parliament, Council of Europe, etc.) and international meetings and conferences (CUNY, Deaflympics, ICED, IOC, TISLR, UN, WASLI, WFD, etc.).
Pointing, showing and telling
In the presentation I will examine the presented in-vision translation of spoken English current affairs programs rendered into BSL by both deaf and hearing professionals. The output examined is from the BBC, although there are other broadcasters that provide in-vision programs in the UK. I will explore the decisions made by in-vision professionals to ensure that Deaf people have access to current affairs. For this analysis I draw on Relevance Theory (Sperber & Wilson, 1995) as the theoretical framework to analyse the multimodal environment that the viewer is watching and the ways in which the in-vision professionals manage that environment as they craft their renditions. This builds upon earlier work (Stone, 2005, 2009).
Firstly, I introduce Relevance Theory, before explaining the environment within which the translator provides the rendition and how this manifests in the viewed product. I then describe the shifts from pointing (allowing the audience to watch the program as information is provided by the images on screen alone), to telling (using BSL to render information), to showing (using depicting strategies that are isomorphic with the images on screen) information to a BSL using audience to ensure an optimally relevant target language. I conclude that these decisions are motivated by the T/Is wanting Deaf appropriate communicative norms to be seen by mainstream audiences while simultaneously providing optimal access to information for the Deaf audience.
Marta BOSCH-BALIARDA is a sign language linguist and interpreter who has worked as a trainer for sign language interpreters, sign language teachers and communication support workers in Barcelona. She has been involved in the deaf community since 1998, and later specialised in Deaf studies at the University of Barcelona. She is a member of ILLESCAT a deaf association that publishes educational materials in Catalan Sign Language (LSC). At the moment she has a teaching position on intervention for deafblind people within the vocational training program for communication support workers. She is currently finishing her PhD on sign language interpretation on TV within the PhD programme on Translation and Intercultural Studies at the Autonomous University of Barcelona (UAB). She has collaborated as a research assistant in the European projects HBB4ALL and EASYTV led by TransMedia Catalonia, a research group working on audiovisual translation and media accessibility from the UAB.
Size and position of the sign language interpreter on TV: A reception study
The quality of the signing services on TV depends both on the language contents and the formal parameters used to implement the service. Although sign language interpreting (SLI) is the third major media accessibility service along with audio description and subtitling, the field of media accessibility on SLI still lacks critical investigation on tested techniques to produce guidelines that can constitute best practice for both broadcasters and stakeholders. The goal of the present research is to explore the reception and processing of different split screen composites including sign-interpreted content of a documentary film. The different screen designs tested two size features (1/4th and 1/5th of the screen width) and two position features (left and right). The reception study aims to gather information on the user's attentional behaviour and recall performance. It includes two complementary experimental techniques: (1) the first using eye-tracking measures to analyse deaf signers visual attention allocation patterns on the screen; and (2) the second using visual recall tests to analyse content accessibility. From the quantitative reception tests, it can be concluded that size in combination with on-screen position are two important factors to consider when producing audiovisual works including signing in a TV split screen design. Although watching audiovisual contents with signing services is a complex task requiring divided attention, the results from the user tests show that implementing the optimal parameters can have a positive impact on the SLI service legibility and readability and, ultimately, on service usability and content accessibility.